Post by mpbears68 on Nov 14, 2023 19:23:50 GMT -6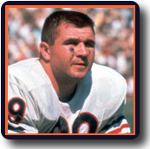 That line of thinking goes like this:
If Bears end up with a top-2 pick, Poles is moving on almost no matter what. He will trade Fields and take the opportunity to reset the rookie QB contract clock.
If Bears do not end up with a top-2 pick, Fields will be the starting QB here next year.
Feel free to agree or disagree but that doesn't seem far-fetched to me.
Personally, if Fields does play solid ball in these 7 games to go along with his two of three most recent outings where he looked really really good (Denver and Washington... before his last game against the Vikes where he got hurt - then I would say that the Bears shouldn't "assume" Caleb Williams or Maye are going to be as good as that. Yes, they are the annual darlings of the sports media right now (they trot guys out every year as the annual "can't miss" guys, and about half of them bust). Wouldn't it be just like the Bears to deal away a great franchise QB after they finally land one - just to draft a bust? If (a big "if" I'll admit) but if Fields can consistently showcase outings like those two games that had 617 yards passing and 8 TD's they'd be lunatics to let him go.
But he's gotta prove in these 7 games that he is the guy. Ball is in his court right now to prove that. Consistent play. Solid play.
I want Fields to ball out the next 7 and be the guy. That plus Carolina handing us the #1 pick is the dream scenario at this point.
On the draft scenarios, its damned if you do and damned if you don't. For instance...
Yes, I know it's early but right now no question we whiffed on CJ Stroud. If you doubt that, ask yourself: If I could turn back the clock to last spring knowing what I now know, would I draft CJ Stroud? And the obvious answer to that is: YES!
If Fields gets shipped out and goes somewhere else to ball out...
If you keep Fields and pass on Williams or Maye and they go on to be great...
Watch us somehow missing out on drafting MHJ by only one pick. Just like we did with Aaron Donald...
All these things are why GMs get paid millions