Post by dachuckster on Nov 8, 2023 6:20:52 GMT -6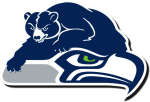 Is it the route concepts on the playcalls? Is it poor coaching to get them prepared? Are the common denominators the depth WRs(mooney claypool ect and kmet? Why is it this constantly happens? How can you expect young qb's to grow, let alone thrive, when they cannot trust the players around them b/c they are constantly taking eachother out, or bringing defenders into areas they shouldn't be?
I struggle to think coaches are incapable of coaching, I don't think anyone ever taught Cutler to have such faith in his arm that he could chuck it into triple coverage, nor taught him to hold the ball so low that it was easily swiped out of his hand. I don't think anyone ever told Mitch see that area w/all those defenders, throw it there instead of the spot w/less defenders. I'm positive not one coach has ever told Fields he can count to 6 before throwing in the NFL, it's normal for qb's to have all day. But here we are, and add into it, w/the last 2 staffs, WR's and TE's don't know the plays, don't know how to run the routes and make everything look like a damn clownshow taking eachother out.
It's not a lack of athletic talent, it's stupidity that hurts this team the last 4-6 years.
Getsy didn't have this problem with the Packers receivers learning routes, did he?
I remember Fields saying last year that St. Brown was one guy he could trust to be at the right place at the right time. Why can't other players execute— hell "execute " is Flus's favorite word!
Since Getsy was the QB coach at GB, why is the performance of receivers at GB during his tenure there relevant to the current discussion?