Post by mpbears68 on Oct 28, 2020 21:25:18 GMT -6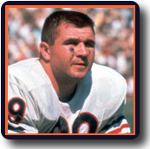 Looking at the remaining schedule it looks like another 5 wins are possible this season... this defense combined with some weak opponents probably will give the Bears a 10 win season - even with the poor offense. So there won't be any rebuild or firings. It's just not going to happen. The team won't quit on Nagy. The players like him too much to do that.
So the best we can hope for is probably that Ryan Pace will get a solid OC on the team and insist Nagy let the man do his job, calling the plays included. Then Pace needs to make a priority of getting the OL fixed. It's going to take BOTH the draft AND free agents I think. If Pace fails on this then he will be fired after next year. The other priority is obviously getting a QB for the offense. Yes it will be difficult. But he's going to be in his 7th off-season as our GM. If he can't do it in 7 years then he probably can't get it done ever here. Yes, it will probably be a rookie who brings nothing more than some hope for the future in that first season. But at least Pace needs to make the effort to draft our QB of the future. Then fans will at least have some hope that maybe the new kid can be good someday in the future.

If Pace and Nagy can't get it done by the end of next season then both will be gone. Yes, it's not good to go through the GM/HC replacement again. But what else CAN you do if the existing 2 guys can't get it done? Keep them? No. They will have to go and they will go. You don't keep failed leadership. You can't.

Hopefully (and I mean this), Pace and Nagy can make the adjustments needed and they stay. That's the ideal. And maybe they will turn it around. I know one thing. I'm tired of watching these pitiful offensive efforts. Last year and this year, the offense has been painful to watch. That's the only word I can come up with to describe the experience of watching football played this poorly on offense. It's painful to watch. It is shameful too. Pace should seriously be ashamed for people to see his work product of 6 years here - on the offense side of the ball. It's pitiful.

IDK why you expect Pace Year 7 to be substantially different than Pace Years 1-6. What is your basis for believing this? Nothing but desperate hope??
Pace hasn't drafted a single offensive star in 6 tries. Best he's done is Cody Whitehair...a Center.
We have very little cap space for FA signings so unless Pace absolutely kills it in the draft, I wouldn't expect much change in just "one more year". We need a QB (maybe 2), a WR (assuming Robinson leaves), and major OL help. That's a very tall order for one offseason and that's just the offensive side of the ball.