Post by mpbears68 on Oct 28, 2020 14:21:51 GMT -6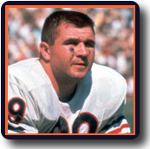 I think most of us agree with that. It seems to be a situation where many of us are trying to discern what the ceiling is for this regime under Pace and Nagy. Do they have the gears to take the team to where we want the Bears to be? The goal should be championships. Can this regime get us there? One benchmark of evidence would be how they are doing solving the perennial problems on the team's offense. Are they making significant progress after 6 years under this GM? If not, then why not? And if not then how many years should the team continue on this path? I think these are valid questions fans are wondering about.
It doesn't mean we need to burn it all down. That's not happening and shouldn't happen. But how long do you give this GM and HC to show they can fix the things that have been broken here for a long time? Are we making significant progress towards building a championship team?

Nuking the roster isn't the answer. And constant turnover of GMs and coaches isn't the answer. Continuity can be a good foundation for sustained winning spanning years. But then again, how long do you give a regime before you acknowledge that they don't have the ceiling to deliver championship performance, and winning super bowls? Or, to you just scale back expectations and settle for mediocrity?

This failure to build an offense is (and has been) hurting the franchise for a long time. Personally, I don't see progress towards fixing this problem that has dogged the franchise for a long time. So, how long do you give this regime before you pull the plug and try again with new management? I think Pace and Nagy will both be back next year. I don't have a lot of confidence in either of them at this point. Good guys. But not sure they have what it takes to fix the offense and win championships here. I may be wrong. LOL, I'm wrong a lot about the Bears. But I just don't see the evidence of them having what it takes to win super bowls here. I don't.

To me Pace hasn't shown me anything that says he needs to be fired. What you're describing is an issue just about every team in this league is dealing with. Name me all the BALANCED dominant teams in the NFL right now. I have to be honest...I can only think of one.
As for solving the problems on offense...obviously a QB goes a long way, and again, thats a problem a lot of teams in this league are trying to solve. Beyond that our o-line is an issue. It looked to be improved, but again injuries to it have hurt that area. I think this offense can perform better, but I think that involves Nagy not being stubborn and either using more 2 minute fast tempo offense, or giving up play calling to someone that will. Will that make us a top 10 offense? No...but I think we'd be greatly improved.
Like I said...I think Nagy is a good HEAD COACH. He's proved that in the job he's done turning things around, dealing with adversity, and building a culture here. His play calling boggles my mind sometimes.

I disagree with that.
He has had 6 years and still hasn't produced a competent offense or even found a promising QB. We are 29th in yds/game, 27th in pts/g, and dead last (32nd) in rushing. Our team O stats last year were similarly pathetic.
How many more chances to you want to give this guy?