Post by mpbears68 on Sept 15, 2023 9:04:43 GMT -6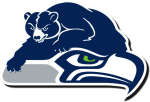 It's too late of course but yeah if you could turn back the clock, you'd have not made the Claypool desperation trade last season and instead used that pick to draft Joe Tippman. I wanted him for us soooooo bad in this draft and was sick when he went in the early-2nd before we had a shot at him.
The story from the Titans is that coach Vrabel did not like Davis. They gave the job to a guy who is older than Davis for about the same money the Bears are paying Davis. Sorry, but I can't say anything good about what I saw from him against the Packers. His 7.2 pass protection grade was well-deserved. His 9 pressures allowed was almost as many as Whitehead and Patrick COMBINED (11). All three of them sucked royally. I think much of Davis' problem is that he is just not in physical shape at the level he had last year. Vrabel implied that Davis has a "work ethic" problem. He did not participate in a single padded practice with the Bears this entire preseason. Eberflus has excused it because of his unknown "personal problem." I'm not writing him off, but he gets no free pass. He needs to show up for practices and start playing at a level commensurate to his $30M contract. He's got a long way to go.
Re Davis, sorry Butkus but you're about the only one who thought Nate was good (or even decent) last week. What I saw and everything I have read and seen from other observers said that he sucked hard.
Was is just "knocking off rust"? Well, I hope so or we just wasted $30m on a bust FA. And why was he so rusty? Cuz he was AWOL the entire offseason program. Not gonna rehash the details but the guy hasn't exactly shown dedication to his craft since being a no-show at OTAs back in June. He's been a total PITA DIVA who apparently doesn't think he needs to practice. I too read the reports that Vrabel hated him and MV is a HC I think highly of, especially with regard to line play.
There's stuff they aren't telling us about him and his "personal problem". I'd wager a lot of money that's a bullshit cover story for his crappy work ethic.
He sucked on Sunday and he needs to be way better to change the evolving narrative about him which isn't good.