Post by JABF on Mar 19, 2023 15:54:56 GMT -6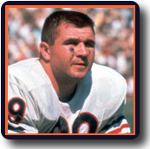 Take Monty as an example. Lions are paying him $6 million, and the Bears are paying Foreman $3 million. That's a 50% savings.
Poles doesn't care about the market value Roquan or Monty has for other teams.
Don't expect any Bear to get an extension, unless he agrees to play for the $$$ value Poles assigns to that position, which may be considerably less than what the guy can get in the open market.
+1 to that statement in bold. I would just add that the $$$ value Poles assigns to a player COULD be the same as full market value that other teams assign to that player. It just depends upon the player and the roster situation. I think Poles $$$ value of a player simply means "value to the Bears" and not what other teams are willing to pay. Montgomery is a good example. He was replaced by a player who runs the ball better. He paid less for him too. That is a good value to the Bears. But, I really expect Poles to pay full market value in situations where that particular player is going to cost what other teams are willing to pay... if that is a player we really must keep because there really isn't a cheaper option. Those guys will get those extensions. But he won't extend players (like Monty) who can be replaced with a player of equal or better talent, and save cap money. And (hopefully) he doesn't keep old players here beyond their shelf-life. "Sell" them before their talent drops like a rock. Get chump teams to "buy" high, what Poles got at a low price (drafted and developed guys). Off load those guys (and their big salaries) and backfill with young players from the draft (or young FAs). That can result in some good comp draft picks too. That is what I want to see from our GM. Built the best overall team within the constraints of the Cap budget.