Post by JABF on Feb 6, 2023 13:45:55 GMT -6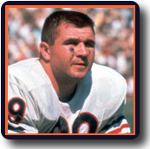 How high of a draft pick would you be comfortable spending on him?
From his draft scouting report:
"Main concern scouts will have with Dell is his limited size - he's just 5-9 and 163 lbs and looks frail. If he can hold up playing against much bigger DBs is a big question mark. When corners play press and manage to get hold of Dell he can be taken out of the game and easily outmuscled. Has predictably got short arms and overall wingspan resulting in his catch radius being tiny. He'll be coming to the NFL from a wide-open spread offense in which Dell ran a limited route tree."
Wan'Dale Robinson measured in at 5'8'' at the combine. He was having a pretty good year before he got hurt, but ACL's don't care about your height or weight...they're equal opportunity injuries.
It finally came to me, who this guy reminded me of. He looks like a smaller version of Garrett Wolfe. Obviously, Wolfe was a running back and not a WR. But just watching Dell in person, he looked like a lighter version of Wolfe. Dell is 20 pounds lighter than Wolfe was, when he was a Bear. I'm not saying we shouldn't draft a guy like this. Poles and Getsy will know if he fits the Bears offense. But I don't think you should invest a high draft pick in a guy so tiny. Maybe a mid round pick if he's there and you figure he can help you. But then again I wonder if his size would be a problem for the QB having to work with a guy that small. And I also wonder about his durability returning punts at the NFL level. But no question, he is electrifying to watch. After he took that early punt to the house that night I really thought Houston was going to blow out Tulsa. But like I said, the Houston D couldn't stop anything that night and got the win.