Post by JABF on Jun 2, 2021 12:13:06 GMT -6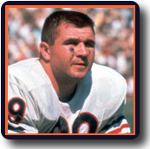 I really hadn't watched Justin Fields before we drafted him. I did watch the Clemson vs Ohio State playoff game but at the time I didn't think we'd be drafting Fields so I didn't watch him closely at all. But since the draft I've been extremely curious to find out as much as I can about him. I've watched every snap he took at Ohio State, countless times by now. I've watched that particular game - the entire game - probably a dozen times now. Here's my 2-cents worth. He seems to read defenses very well, and consequently he has a good idea of where his best option is going to be on a given play. He knows. He is usually correct with his reads. So he doesn't NEED to go to other options "going through his reads" on those plays. Just time your throw and get the pass off. He does that. But when necessary (his primary guy on a play isn't open) he does go through his progressions - most of the time - when his #1 read is not going to be an option.

Now there is a problem that I saw in some of the games where he did not play well. In those games he was getting heavy pressure, blitzing & getting physically beaten up. He made some mental mistakes in those games. Poor decisions with the ball. He looked like he was trying too hard to force plays when the play just wasn't there. But I've seen the best QBs do these type things. Aaron Rodgers is one heck of a good QB, but I've seen his game go down like this when he gets the same abuse in a game. Tom Brady too. And in the recent Super Bowl you saw this with Patrick Mahomes. Bottom line is that THIS is usually what happens when any QB doesn't get the time to execute his game.

Fields is elusive most of the time. But in the games he played poorly in he just got nailed before he could make something happen. Sometimes it looked like he was just a heartbeat away from pulling the trigger in those plays and just ended up roadkill. You can see he is not noticing his pressure on some of those plays, and instead he is 100% laser-focused on his receiver. He is not one to throw the ball away, even when he probably should in some of those instances. He maybe tries too hard to force things in some of these instances. It's a fine line though. That's my opinion anyway.

Sometimes he will throw with poor mechanics too. Usually it's when he's really not going to be ABLE to use good mechanics because he is running and just launching the ball to make a play while on the run. I can't fault him for that. I really can't.

One other thing that stood out to me was the fact that his receivers were totally amazing. He had stellar talent to throw to. Often they were getting so wide open that I thought "no way he's getting that kind of play at the NFL level" because your guys are rarely if ever going to be THAT open. That's not a knock on the Bears receivers. It's just that the defenses will be so much better that he faces. On the other hand, Fields made countless GREAT throws in situations where his receivers were closely covered. Fields threw amazing tight window passes that I thought were shockingly good. His ball placement was unreal good. He had one of those in the Clemson game. I though it was gonna be a pick for sure, but it was pinpoint accuracy for a TD. That type of passing will serve him well at the NFL level.

Some criticize his mechanics but he looks to me to get the ball out quickly with power, touch and accuracy so what's the big deal? I'm just a meatball fan so admittedly I don't know... but it sure looks like he's doing SOMETHING right the way those passes are. The guy passed for 67 touchdowns with only 9 ints for a career passer rating of 178.8. And this was against the "best of the best" defenses in college football. I gotta believe he's doing something right. Right?

Watched most of them, best of the group was Warner bc he broke it down into the good and the bad. It showed why the Bears might want to give him some sideline time. As he stated there was reasons he would be the #2 and reasons he would be #4 based on what the team was looking for.
He does go through his progressions, but it seemed there were times he decided where he he was going before the snap regardless of the defense. As you pointed out imo it's bc of the wr talent he had on that team.
Bears better put a better OL and receiver talent around him then they have QBs in the past though. They need to get over best D in the league and hope for the best at O or this won't work any better then the rex's cutler's mitchs etc.
+1
One random thought I had is that I hope he can relax and play with his instincts too. Not over-think it all. I felt like Trubisky actually regressed as time went on. He looked so "tight" and hesitant... almost like he was fearing he'd make mistakes. I hope Fields can just relax and let it rip out there. If you make a mistake just learn from it and go on. No fear. Be confident, and downright cocky. That confidence is something the rest of the team can "catch" from him. Once a QB loses his confidence he's pretty much screwed at the NFL level. Confidence is a big deal at QB.