Post by weneedmorelinemen on Jun 1, 2021 12:16:33 GMT -6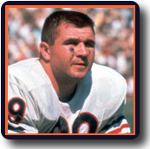 Once you extend ARob you can claw back 10M. Say you sign him to a 5/100M (w/ 2 void years) with 50M guaranteed. You give him a 25M signing bonus and 3M salary in 2021. You get back 9.9M and add it to the available CAP. Remaining contract structure could be:
2022- 7M guaranteed salary, 2M roster bonus guaranteed (14M CAP hit)
2023 - 10M guaranteed salary, 1.5M roster bonus guaranteed, 1.5M workout bonus guaranteed (18M CAP hit)
2024 - 18M salary, 3M roster bonus
2025 - 18M salary, 3M roster bonus
2026 - 4M salary
2027 - 4M salary
However they do it, I just want to see the Bears lock up a top-10 WR in his prime years here, for Justin Fields.  By now I have watched every snap Fields took at Ohio State - most of them I've watched countless times.  He had two stellar WRs.  And that Chris Olave in particular seemed like his "ARob" guy there. 

The Bears have some guys in that WR room that show "promise" but are not proven top-10 NFL talents.  They may never be.  But ARob has put up the top-10 numbers in 2020 with pure crap QBs throwing to him (really this has been the case his entire career).  With Fields at QB I believe Allen Robinson can be a top-5 QB easy.  Maybe even better. 

I get so pissed when people (Bears fans) fail to understand that QBs do need supporting talent like this to hit their ceiling.  There is no magic Mike Tice pixie dust here.  You either give your QB the talent to succeed - or we will watch yet another Chicago Bears failure at QB. 

Sign Allen Robinson.  Lock him up for the remainder of his prime years that he's just now entering.  Get it done.  Don't piss away this opportunity with Justin Fields.  And the heck of it is, they can do this and IMPROVE their cap situation.  It's win/win here.  ARob will get a decent payday I suspect, and one that is fair to him and the Bears.  And if the Bears are not willing to make this happen, then don't draft Fields.  Just roll with crap QBs like the past decades and continue to suck as a team.  Roll with Foles or Andy Dalton - or any deadbeat guy who will suck at QB.  Because if you can't afford to provide a supporting cast of talent for your QB, then it really doesn't matter who you have at QB.  Just enjoy the mediocrity for another 30 or 40 years here in Chicago.
Pay Allen Robinson.  For once, do something RIGHT on offense and support your young QB with the BEST talent you can get your hands on.

I'd like the Bears to get Allen Robinson into a long term deal. Do we know if his arms are long enough to warrant such a high cost deal though?