Post by butkus3595 on May 3, 2021 9:37:59 GMT -6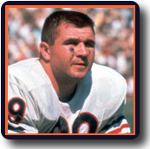 +1

Last night I watched Fields playing in games just to get a better idea of what we drafted. I really hadn't watched much Ohio State football in recent years so I didn't know much about Fields. Holy cow what an incredible career he had. Stunning. And against the best teams in football. The only word I can use to describe my feelings watching this young man play is "stunned" because he has so much talent. Smart kid. Canon for an arm but also has beautiful touch on his passes. Unreal "off the charts" speed when needed to make plays with his feet. Physically tough. Plays big in big games... on the big stage in front of a national audience he had poise. He takes apart defenses with surgical precision.
I am going to watch more of his games this month just for fun. My final thought is that in my lifetime as a Bears fan, I have never seen a quarterback who possessed this broad range of top-tier talent, including the football IQ to go with it. Not on the Bears anyway. Not here. We have had guys with 1 of these attributes at times (strong arm, weak brain) but not the full package. But Fields has the full package.

Now I'm excited to watch this coaching staff help this young man reach his potential, his ceiling, in the NFL.

Yeah, I'm stoked about him because he's
a good pocket passer who is also mobile
, not just "a mobile QB". Trubisky was a mobile QB. So was Kaepernick. So is/was Cam Newton. I've soured on that type. Too often those guys have a couple good years then flame out as soon as the rest of the league figures out how to contain them in the pocket and force them to be an actual NFL QB. The other reason is because Nagy has made it clear he wants a guy that can throw from the pocket most of all and I'm tired of pounding a square peg into a round hole (like we did last 2 seasons). If you are gonna retain the GM and HC, then the GM needs to get the HC the type of QB he wants and needs. Everyone on the same page, sink or swim.
Fields seems like a smart dude, he certainly has a live arm, he can make all the throws (he has a beautiful deep ball BTW), he's accurate and throws with touch and anticipation, and he's highly experienced (quantitively and qualitatively) at the NCAA level.
He's the best Bears QB prospect in my lifetime.

I still can't believe San Fran, Atlanta, Miami, Carolina, Denver, Detroit, and Philly passed on him.
Totally agree MP. You can the Jets to that list IMO. I have no idea how they took essentially a one year wonder over a guy who's proven it time and time again. But I'm glad all those teams did.