Post by mpbears68 on Jan 15, 2020 15:01:25 GMT -6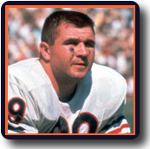 Ric it says Mitch had a decent 2018 second season and posts his numbers (including a franchise record in one and an alternate trip to the Pro Bowl) but then it states he really regressed in 2019.
Then it says, "while quarterback is a serious need for the Bears right now, it is not as important as tight end, safety and inside linebacker — all currently without enough starters — and left tackle, where Charles Leno's performance last season was even worse than Trubisky's. But the need is real with backup Chase Daniel and QB3 Tyler Bray ticketed for free agency, so we'll call it a 2 ½."
On a related note, did you hear Jimbo Covert on the Score this morning? He just made the Pro Bowl and was just talking about various stuff, but around 11:30am he talked about the Bears OL this past year. I perked up to listen because Covert is a sharp dude who played the OL at a Hall of Fame level. LOL, he still describes himself as an OL geek when he watches football now.
He said he had a lot of respect for Harry Heistand as a coach. But he said it hurt him to see the OL execution this past season. He said he's an OL geek, so he closely watched the unit perform and he said their technique was so "sloppy" (his word) that it hurt to watch it. No excuse for that. He said their footwork was bad, their hands were not right, and they were not (I didn't catch the word he used but it was something about their stance being too high... don't quote me on that one though). But the bottom line was that their technique was sloppy - a word he used more than once. So sloppy that he said it hurt him to watch. Anyway, I thought I'd throw that in here. It sounds like something that may be fixable (we've seen Leno play better for sure). We've also seen Whitehair play better.

We all recognize the OL was POOR in 2019.
What concerns me is that no one seems to know why
.
I haven't read anything that convinces me what the answer(s) is.
Injuries? Bears OL injuries were no more than league average. Worse than last year but not a wholesale wipeout by any means. And the OL was bad before Massie went out at the end.
Personnel changes? Bears started year with same starting-5 and 4 of those 5 played together most of the season.
Age? Nope, 4 of the 5 are 28 or below. No one was over 31
Coaching? Heistand is almost universally credited as a rock solid and experienced OL coach
So......
WHAT THE HELL WAS IT?


?