Post by motm on Mar 12, 2019 22:45:54 GMT -5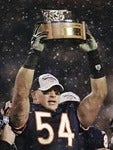 The Super Bowl window doesn't stay open for long. We can play conservatively like the Packers did and hope we end up as lucky as their 2010 season or we can build an all in season to get their.
Again that's why going after guys like Bell or Coleman would help our offense even more. Guys like Houston would give us a similar pass rush of the 2015 Broncos or adding Earl Thomas ( If he doesn't get taken by the Browns ) would be a huge upgrade over losing Amos.
cap increased this year and the team had to restructure to have what it has, which isnt enough for top talent.
sb window is open as long as you have a franchise elite qb and a gm that can draft. teams that get desperate and go all in ruining their ability to keep their key talent, and trade draft picks for top NFL stars suffer.
key is gm+qb+draft pick hits=large window. its why I both liked the mack move but also hated it. they gave away cap flexibility and the one thing that offsets small caps, draft picks.
Its going to be very tight cap wise once the Trubisky and Jackson contract comes up.
Well I'm not going to disagree with the gm+qb+draft pick = large window but is Trubisky elite? Usually elite qbs can carry the team. I hope he is elite but its still a big question mark. When you have a qb on a rookie contract you can afford to give other FA big contracts. Sure the Rams lost the Super Bowl but their all in approach brought them there. You have a small window to do so.
The reason I loved the Mack trade was what he brought to the Bears. Not only did our pass rush get much better. Our defense went from one of the worst in generating turnovers to one of the best and that was even without being a blitz heavy team. Mack was that talented.
We lack a Mack on offense. Someone who will make everyone else around him better. We are going to be hurting with both Amos and Callahan gone. Earl Thomas would help improve our weaken secondary. Justin Houston is a upgrade over Floyd.
We can be like the Packers and be very conservative while at the same time competing but always being too short to make it to the Super Bowl or we can go out and get the talent to get us there.
I don't know about you. I want a ring.